While we're still cherishing the memories of the 17th XPOSED Queer Film Festival Berlin, it's time to announce our second open air summer screening! Join us  at Freiluftkino Rehberge on August 28th for our late summer open air with shorts from this year's festival. Make sure to come by, say hello and watch these wonderful works of art with us!
August 28th, 8:15pm @ Freiluftkino Rehberge – click here for tickets

XPOSED Open Air 2023: Queer Short Films
Wait Your Turn
by João Carvalho
Germany, 2023, 14 min
English & German with English subtitles
A young man tries to bear with his intense menstrual pains while stuck in the waiting room of an administration. He feels exposed, until his own gaze takes over the screen, turning his need for pleasure and care into a common cause, a collective fantasy. Wait Your Turn is an invitation inside the subjective perspective of a trans man navigating pleasure and pain in public space.
Memoria Dia (Their Memory)
by Asarela Orchidia Dewi
Indonesia, 2022, 19 min
Indonesian with English subtitles
Triggered by an old family photograph, Azka starts to trace back their childhood – a stage of life when they began learning about the world around them and themselves. While revisiting these long-forgotten memories, Azka discovers unresolved pains they never knew existed. This experience marks the beginning of a journey that unfolds profound self-acceptance.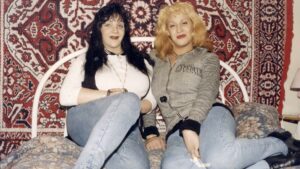 Memórias Reveladas (Memories Revealed)
by Quentin Worthington
France, 2019, 23 min
Spanish (Argentine) with English subtitles
From Buenos Aires to Hanover, this photo-novel reveals the struggles, lives spent in exile and grief, but also the happy memories of trans women like Magali, Maria Belen, Ivana, and Carla, who work to protect a treasure trove of seven thousand photos: the Archivo de la Memoria Trans Argentina.
Bigger on the Inside
by Angelo Madsen Minax
UK, 2022, 10 min
English with English subtitles
From an isolated wooded cabin a trans man star-gazes, scruff chats with guys, watches youtube tutorials, takes drugs, and lies about taking drugs – feeling his way through a cosmology of embodiment. Bigger on the Inside probes the boundaries between interior and exterior, the micro and macro, to consider bodily insides as passageway and portal, relative to the immensity of longing. Nudes and landscapes are equally erotic. Eros as an issue of boundaries: When I desire you, a part of me is gone. Land is surreal. Memory is porous.
Tornar-se um Homem na Idade Média
(Becoming Male in the Middle Ages)
by Pedro Neves Marques
Portugal, 2022, 22 min
Portuguese with English subtitles
Mirene and André, and Carl and Vicente, are both couples in their mid-thirties. While Mirene and André struggle with their fertility, Vicente decides to undergo an experimental procedure, implanting an ovary in his body in the hopes of having a child with Carl. A love drama of speculative undertones, Becoming Male in the Middle Ages is an intimate tale about queer sexuality, bodily autonomy, reproductive desires, and the ghost of normativity.
***