The XPOSED Queer Film Festival Berlin is pleased to announce their newest cinematic event! In collaboration with Kino Krokodil (Berlin), the festival will show works from or about Eastern Europe and Russia, presenting a various range of queer perspectives from several territories. Five feature length and six short films dive into stories of love, self-exploration, migration, activism and history.
The audience will get the chance to see features from our 2021 program, including Milica Tomović's fantastic debut KELTI (2021), Reka Valerik's heavy and breathtaking SILENT VOICE (2020), or Tamar Shavgulidze's neo sci-fi COMETS (2019). We are also happy to show Rafal Morusiewicz's experimental film BODIES WITHOUT BODIES OUTER SPACE (2019), in which the artist explores the history of Polish cinema.
The screenings will take place from January 12-18 2022 at Kino Krokodil (Greifenhagener Str. 32, 10437 Berlin).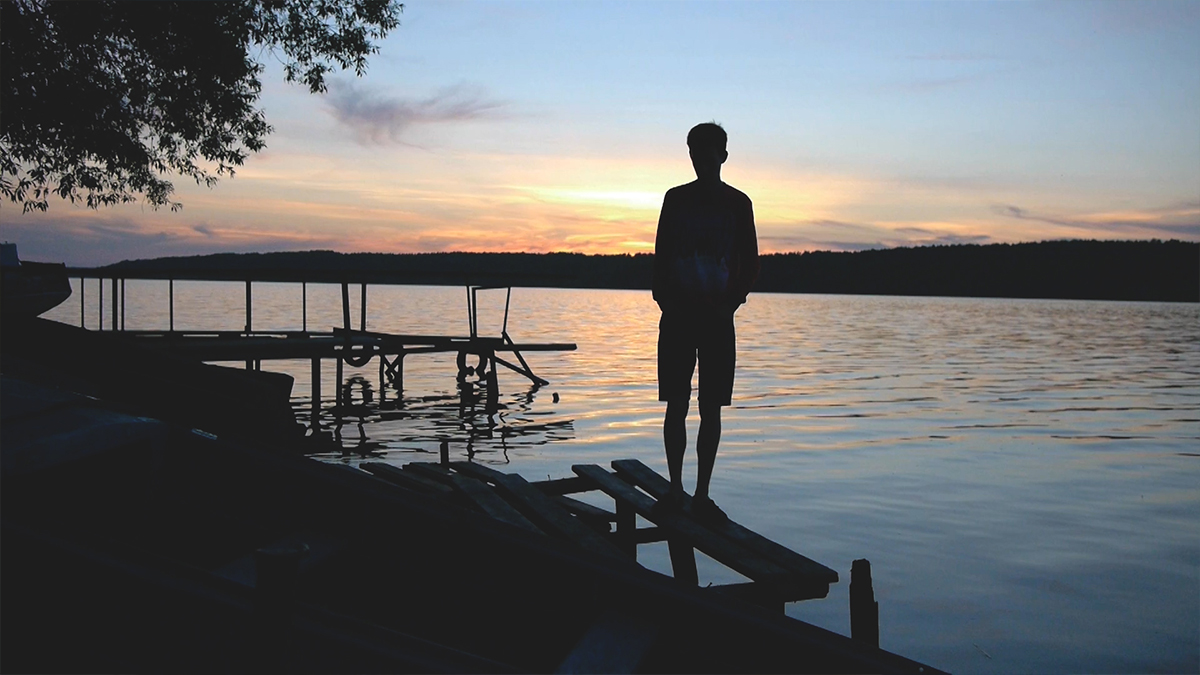 Wednesday, January 12th, 7pm at Kino Krokodil
BUTTERFLIES, Dmitry Kubasov, Russia 2016, 79 min
Aleksey is a young man in search of himself. He comes to the 'Reality' project casting, and its authors suggest him to film his everyday life himself, which Aleksey agrees to enthusiastically. He becomes the protagonist of his own movie. He is in search of a boyfriend, and life would also be much better if his mother could accept his sexuality. Aleksey comes to visit her and admits that he likes boys, saying 'Don't you anticipate any grandchildren from me'. All this ends with a drunken scandal, Aleksey leaves the house with an intention never to come back and slams the door. The documentary portrait Butterflies follows Aleksey during summer break, where he hangs out at the Tarkovsky film festival, drinks with his friends, and enjoys a holiday romance with Grisha…
Dmitry Kubasov's light-hearted documentary brings back memories of the festival life we have so dearly missed during the lockdown, and which we hopefully will fully enjoy again: That strange mode of late nights, small talk, booze, and dance – going ever back and forth between intimacy and banality. With the camera being right up against people's bodies and faces during impassioned discussions or testimonials, and the uncertainty of Aleksey or Dmitry holding the camera, Butterflies takes an unusual observational approach.
Wednesday, January 12th, 8:45pm at Kino Krokodil
COMETS, Tamar Shavgulidze, Georgia 2019, 71 min
After three decades, Irina and Nana meet in the garden of their past. Nana lives there with her family and two children. Irina returns to the small community to deal with the past and present, with complex feelings and memories surfacing. The delicate camera work creates a ghostlike scenery, the time shifts and reality shifts make this atmospheric movie bend in time and space. A neo sci-fi experience with beautiful conversations. Two comets try to connect and love.
Sunday, January 16th, 6:30pm at Kino Krokodil
SILENT VOICE, Reka Valerik, France/Belgium 2020, 51 min
Khavaj, a young MMA (Mixed martial art) fighter, fled Chechnya when his brother discovered his homosexuality and threatened to kill him. In Brussels, facing the shock of exil, he is struck by mutism. The only link that he keeps with Chechnya are the vocal messages that his mother sends him. The film traces Khavaj's first months in Belgium. Forced to live in total anonymity to escape the Chechnyan diaspora, he will try to build a new life. In Reka Valerik's powerful directorial debut, we follow this struggle and appreciate the bravery of one person trying to rebuild their life from scratch all while relearning how to communicate.
Sunday, January 16th, 7:45pm at Kino Krokodil
KELTI (Celts), Milica Tomović, Serbia 2021, 106 min, OmdU
In Belgrade 1993, Marijana throws a costume party for her daughter's 8th birthday, with family and fellow parents attending. Grabbing the rare opportunity when their children are kept entertained in the other room, the parents open a few bottles in the kitchen and enjoy their reunion. Marijana suddenly realizes that she longs for more than a bunch of drunken guests and an inattentive husband, so she sets out to discover the thrills the night has to offer. She sneaks out of the house strolling around the empty streets, seeking genuine experiences instead of mere substitutes. While she reaches an orgasm and smokes a cigarette with a stranger, the party slowly disperses, just like Yugoslavia, the country Marijana and her friends were all born in.
Bodies without Bodies in Outer Space (+ Skipping Stones)

Tuesday, January 18th, 7pm at Kino Krokodil
PO GLADINI – SKIPPING STONES, Blaž Slana, Slovenia, 2017, 19 min
After trying his luck in Berlin, Mitja returns to Slovenia where he is greeted by his boyfriend Bojan. The reunion turns out to be less than ideal as Mitja struggles to tell Bojan a secret that could cost him their relationship. But before he finds the right moment, things quickly get out of hand.
//
CIAŁA BEZ CIAŁ W KOSMOSIE – BODIES WITHOUT BODIES OUTER SPACE , Rafal Morusiewicz, Austria and Poland, 2019, 38 min
"Bodies without Bodies in Outer Space" is a mid-length experimental film, a part of Morusiewicz's "PhD-in-Practice" artistic-research project at Academy of Fine Arts Vienna, titled "Remixing Polish Film History: Self-Contaminations, Queer Interventions, and Affective Conjurings" (defended in 2020). It is both an academic text and an artistic creation that thinks of film in terms of a polyvocal audiovisual and textual glitchy poem. Heavily based on found-footage material, it is a mash-up of over 20 films, multiple audio samples, and snippets of film-based, fictional, and autobiographical stories, all of which revolve around the fragmented "history" of cinema films made in Polish People's Republic (1952-1989).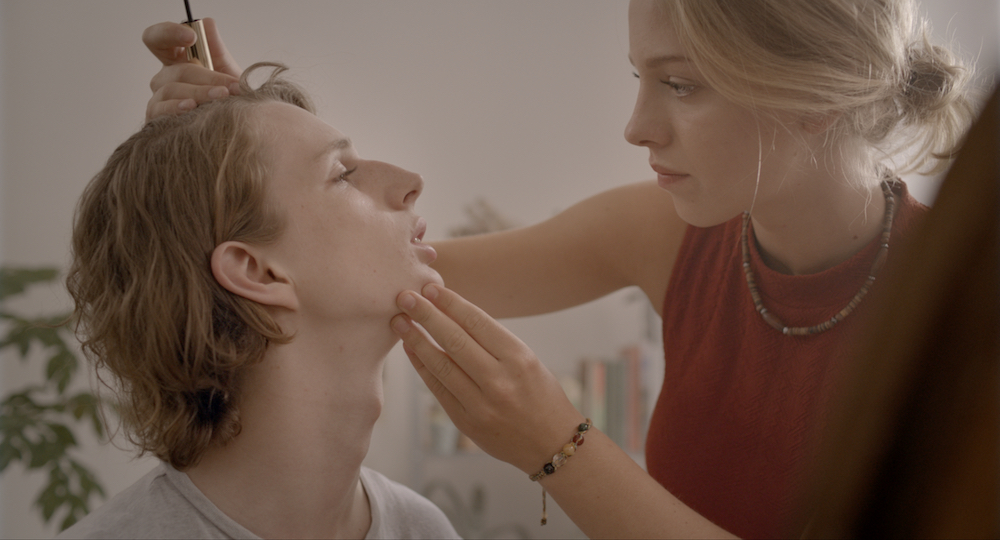 Tuesday, January 18th, 7:45pm at Kino Krokodil
SZÉP ALAK – BEAUTIFUL FIGURE, Hajni Kis, Hungary, 2016, 17 min
A high-school cleaning lady falls in love with one of the students in the school. Her love is impossible from the beginning, but she still decides to show her feelings. The moment when they meet, she changes her mind and gets cold feet but life doesn't leave a way out. She has to face the difficult of human boundaries.
KOPŘIVA – THE NETTLE, Piaoyu Xie, Czech Republic, 2017, 22 min
Summer comes again, from the moment Ana puts the lipstick on Nikola's lip, nothing is ever the same. No one wants to confront or to be justified. All the unspoken desires and secrets are growing just like nettle.
UPORNI DUH – REBELLIOUS ESSENCE, Ana Čigon, Slovenia, 2017, 5 min
A cat walks into the Office of the Ministry for Cat Affairs and requests for a passport. All goes pretty well until the female and male cat clerks demand to know the cat's sex.
RED ANTS BITE, Elene Naveriani, Switzerland, 2019, 22 min
In Georgia, two stranded Nigerians, Obinna and Afame, navigate the sleeping city of Tbilisi after a long night out. However, as day breaks the true colors of their ambiguous affection begin to show. In this way, they find solace despite their hostile environment.
ВИДИ JA ТИ НЕА – WOULD YOU LOOK AT HER, Goran Stolevski, Macedonia, 2018, 18 min
A hard-headed tomboy spots the unlikely solution to all her problems in an all-male religious ritual.